With more and more e-vehicles in development, polymer and composite gears will play a major role in tackling some of the clear challenges of an increasingly mobile society.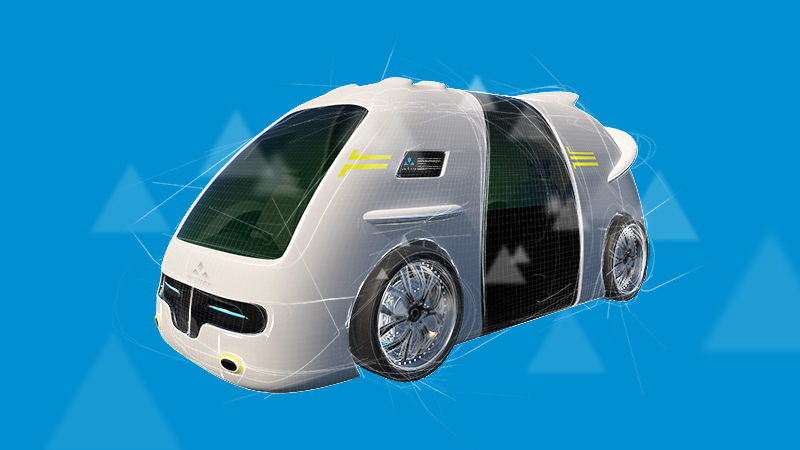 "The squeaky wheel gets the grease", but in reality the squeaky gear could use a splash of innovation. As a simple machine, gears use rotational forces to move the world.
Historically, the first documented gears were used as astronomical measuring devices or as clocks for time keeping. Different designs commonly used today are planetary & sun, helical, coaxial, bevel, and worm gear boxes. Over the years different sizes of gears, in different materials, have come and gone but what has remained is our desire to use gears to enable our ever-increasingly mobile society. This is why polymer gears are expected to play a major role in tackling the mobility solutions of tomorrow.
The wave of new products looking to address consumer and regulatory desire to travel with decreased CO2 footprint is coming quickly.1 More mobile and CO2-conscious customers, combined with the influence of government regulators, have changed the dynamics of the transportation market. The result is a wave of OEM vehicle launches in ebikes2, e-scooters3, electric buses4, eVTOL5, plug-in-hybrid electric vehicles (PHEV), and battery electric vehicles (BEV)6. Electric bikes alone are expected to grow at above a 6% CAGR, with the highest growth in Asia. Other e-mobility solutions similar to UBER, such as Revel electric mopeds7, are seeing an increase in demand and coming to cities faster than expected. BEVs and PHEVs are expected to grow at above a CAGR of 21% until 2025. That's doubling in size every 3.5 years and we can expect to see more and more electric cars on the road coming soon!8-10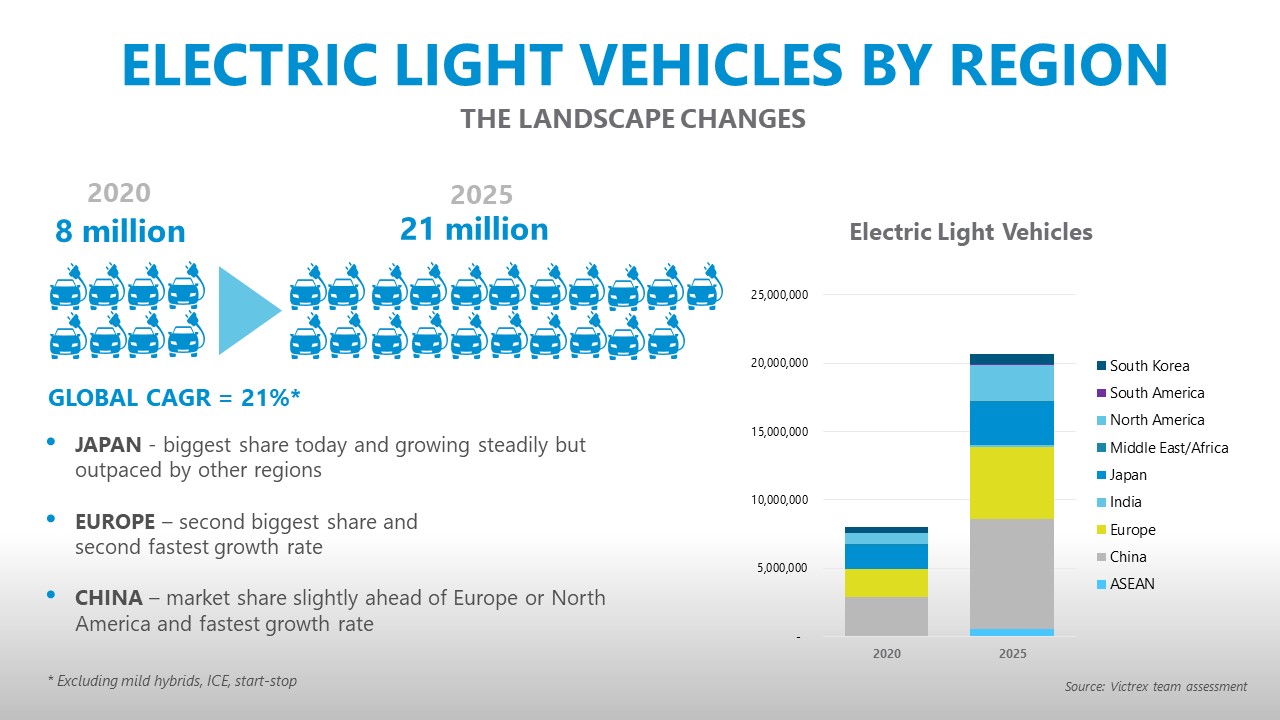 Major consumer benefits include increased mobility options, with decreased CO2 impact, while commuting or traveling. Among the benefits for cities and regulators are increased transport options to handle traffic congestion, as well as a reduction in pollution. These benefits will become more pressing for regulators as Mega-Cities throughout the world continue to sprawl.
Multiple challenges for gear designers
Gears are expected to play a pivotal role in making today's new transportation options, and their benefits for both consumers and regulators, a reality – and that's especially true of polymer gears. Drivers want vehicles that are quiet, comfortable, and support their mobility choices. Regulators are looking for more efficient CO2 solutions. Polymer gears can help bridge the gap between consumer and regulator interests with cost-effective noise, vibration, and harshness (NVH) solutions available for mechanical designers when they launch their products.
Currently powertrain engineers in e-mobility are faced with a variety of challenges that require new ways of thinking in order to make innovation a reality without sacrificing on performance and reliability. Specifically, the major trends that automotive and e-mobility designers face today are:
Cost-effective solutions
Quieter vehicles, NVH improvement
More efficient solutions to reduce the impact of CO2 emissions
Durable components for higher speed motors
Greater driver & user comfort
Manufacturing versatility with streamlined supply chains
Getting the time/cost/quality balance right…
From the perspective of a gear designer in e-mobility today, you are constrained by time, cost, and quality issues when considering different gearing options. You don't want to pay an extreme premium; nor do you want to miss out on the benefits of higher quality solutions. At the same time your design must have accredited seamless qualified supply chains in place to deliver rapidly in a globalised economy. Getting this balance right, as a designer, is always a challenge.
What if there is a material and parts solution provider, able to support designers to solve such challenges? At Victrex, our HPG™ polymer gears have helped designers by introducing game-changing and cost-effective NVH solutions by using our efficient production techniques across the globe. Building on proven experience, we can help you design polymer gears for your particular e-mobility design requirements based on the key elements of successful thermoplastic gears.
At Victrex, we recognise the need for a strong, financial business case, and that's why we pair this with the polymer gear design. Our value discovery experts collaborate with your team to demonstrate the financial benefits that polymers can bring to your project to find the win-win solution. As a team, our approach is holistic, we look at the whole system and match your engineering requirements to quantified benefits where polymer gears can offer clear value for cost-effectiveness, NVH, and efficiency to meet your e-mobility needs.
Do cost-effective NVH solutions and additional enhancements in efficiency make you interested in exploring VICTREX HPG™ polymer gear benefits today? If so, please drop me an e-mail or learn more on victrex.com/en/products/peek-parts/gear-solutions.
Sources:




eScooter -

https://www.mckinsey.com/industries/automotive-and-assembly/our-insights/micromobility-industry-progress-and-a-closer-look-at-the-case-of-munich

Electric bus market -

https://www.marketwatch.com/press-release/at-215-cagr-global-electric-bus-market-size-is-expected-to-exhibit-45900-million-usd-by-2025-2019-11-21

Evtol -

https://www.marketwatch.com/press-release/at-215-cagr-global-electric-bus-market-size-is-expected-to-exhibit-45900-million-usd-by-2025-2019-11-21

BEV/PHEV -

https://www.mckinsey.com/industries/automotive-and-assembly/our-insights/the-road-ahead-for-e-mobility

Revel -

https://gorevel.com/new-york/

Source for emobility

https://www.marketsandmarkets.com/Market-Reports/electric-vehicle-market-209371461.html
2nd one as well – Deloitte - https://www2.deloitte.com/content/dam/Deloitte/uk/Documents/manufacturing/deloitte-uk-battery-electric-vehicles.pdf
3rd as well from IEA - https://www.iea.org/reports/global-ev-outlook-2019

© Victrex plc. 2020. All rights reserved.
Disclaimer